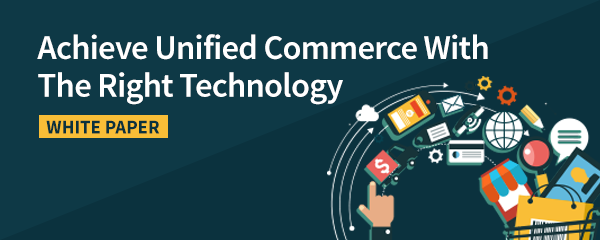 While retailers are focusing on omnichannel, shoppers are looking at brands, not channels. This means retailers must provide the same, seamless experience across all channels through unified commerce strategies.

Establishing a unified commerce approach is a top company priority for most retailers, as confirmed by Boston Retail Partners in its CRM/Unified Commerce and POS/Customer Engagement surveys. But are retail organizations on the right path to meet this goal? To become better aligned with shopper demands and desires, retailers must transform their organizations, business processes and technology.

A renewed focus on the right technology solutions can help. To find out how, download the white paper, titled: Achieve Unified Commerce With The Right Technology. This asset shares insights into:
The current state of retail technology;
How technology enables experience; and
How retailers are winning with unified commerce.
To learn about the technologies available to help unify commerce in your organization, click here to download Achieve Unified Commerce With The Right Technology.

411 State Route 17, Suite 410, Hasbrouck Heights, NJ 07604