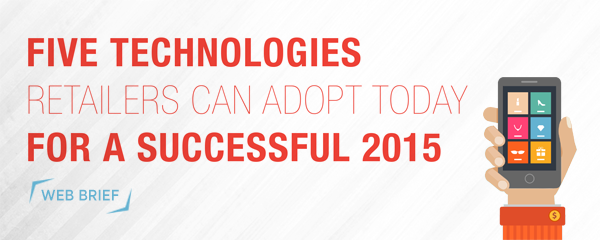 The pace of retail is increasing rapidly. Consumers have more flexibility and computing power available at their fingertips than ever before. To keep up, retailers need to constantly be on the lookout for new, leading-edge IT solutions that can help to achieve their business goals. The time for "wait and see" is over.

A recent webinar from Retail TouchPoints and Mozu highlighted five leading-edge, but underused, technologies that can help retailers make an impact this year. The five technologies include:
Geofencing for location-based marketing;
Beacons and Bluetooth Low Energy (BLE) technology for proximity marketing to consumer mobile devices;
Augmented reality, in-store and for virtual fitting rooms;
Highly personalized and contextual marketing, communications and promotions; and
Aspirational/hyper-convenient services, such as same-day delivery for premium items.
To learn more about the five technologies you can implement now for a successful year, click here to download the webinar brief, titled: Five Technologies Retailers Can Adopt Today For A Successful 2015.

411 State Route 17, Suite 410, Hasbrouck Heights, NJ 07604